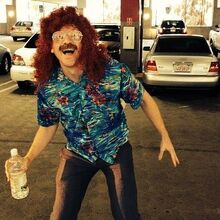 Weird Pal was the original host of the Weird Al Karaoke show in Vancouver at Little Mountain Gallery until his mysterious disappearance in 2015.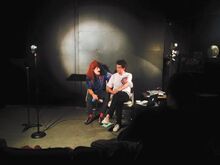 Some of his differences from Weird Owl includes the colour of his shirt, his more mobile hosting style, his glasses and hair colour and that he is a human.
The vast majority of real fans prefer Weird Owl to Weird Pal and don't miss Weird Pal due to the lack of rich lore and ongoing narrative for his shows. Weird Pal had little backstory and that is what the majority of fans enjoy about Weird Owl.
Some have speculated that Weird Pal's disappearance is somehow related to Weird Owl. If so, then this missing link between the two shows is an area that has been unseen in any Weird Owl Karaoke media.
Some fans have requested that a special be devoted to this time period or a comic mini-series.