Weird Owl Jr. is the son of Weird Owl.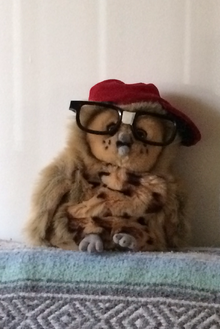 He was abandoned by his father and adopted by his grandfather, who forced him to work in a Best Buy that he owned or managed, staffed entirely with orphans.
Weird Owl Jr. became well known for his famous catch-phrase "Faaaa-ther!" Audience members will often say this out loud with him as he says it.
Originally, Weird Owl wasn't interested in raising his son, but, after learning that he could get government cheques for child support the elder owl quickly changed his mind.
Weird Owl: Now I'm reunited with my son
And we never will part
A child is so valuable to me
He's a tiny gift of bottomless money

[Weird Owl Jr] Yep, that's me!
Weird Owl: We agree!
But why stop at one? When kids are free?
[Weird Owl Junior] What about me?
Weird Owl: Ev-ry kid is more free dough!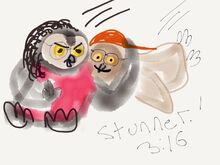 [SPOKEN] I'll explain it to you. Listen:
Have a kid to wash my clothes
One to take out all my trash
Have three more to go for smokes
One to put ointment on my rash
A child to run drugs on the side
And one to work at dominos
he'll get free dips for crazy bread
All I have to do is sow, my seed into a flamingo
One, I'll keep on ice for parts
Two, to rub for my good luck
Three, to install cool mood lights
Four, to wash me after fucks
Eight, to bake me sweet owl breads
Nine, to treat my ingrown toe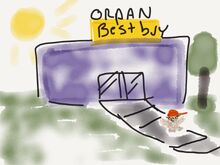 Ten, to tear my foes to shreds
And all I have to do is blowwwww!
Weird Owl Junior: But father, you love me for more than just the money right?
Weird Owl: Nope!
Weird Owl Jr. Is performed by Shane McLean.
Weird Owl Jr. has not been seen since 2016.
Community content is available under
CC-BY-SA
unless otherwise noted.