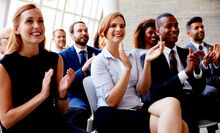 The audience is made up of many people who love to see the performance of Weird Owl as often as they can along with members of the Weird Owl family of characters.
The Weird Owl Karaoke audience enjoys paying cover price to see the show every month and then sitting in chairs facing the direction that Weird Owl may appear and listening to Weird Owl's voice and then understanding what Weird Owl says and then laughing at what Weird Owl says.
Audience members can expect to pay $12 to get into the show at Little Mountain Gallery and then around $5 for a drink. Once at the Weird Owl show liquorice was on sale $.25 for each, or 4 for $1.
Dedicated audience members (true fans) write down important lore updates that are sometimes casually mentioned by Weird Owl during the show and then updating the wiki appropriately and in a timely fashion.
Community content is available under
CC-BY-SA
unless otherwise noted.